Yes, I have a new paper out and it is another paper describing bite marks on bones. I have done a number of these now and it can easily seem that they are incremental publications with limited application, but this is important stuff. As has been shown across various papers and descriptions, piecing together the taphomonic history of a specimen and the environmental conditions around it, as well as the nature of the bites, is crucial to showing if bites were likely inflicted by feeding predators or scavengers as well as what species/ clades may have left these traces. If palaeontologists are going to be able to amke effective statements about what bites can tell us then it will help enormously if we have numerous detailed datapoints where we are confident about what information they provide.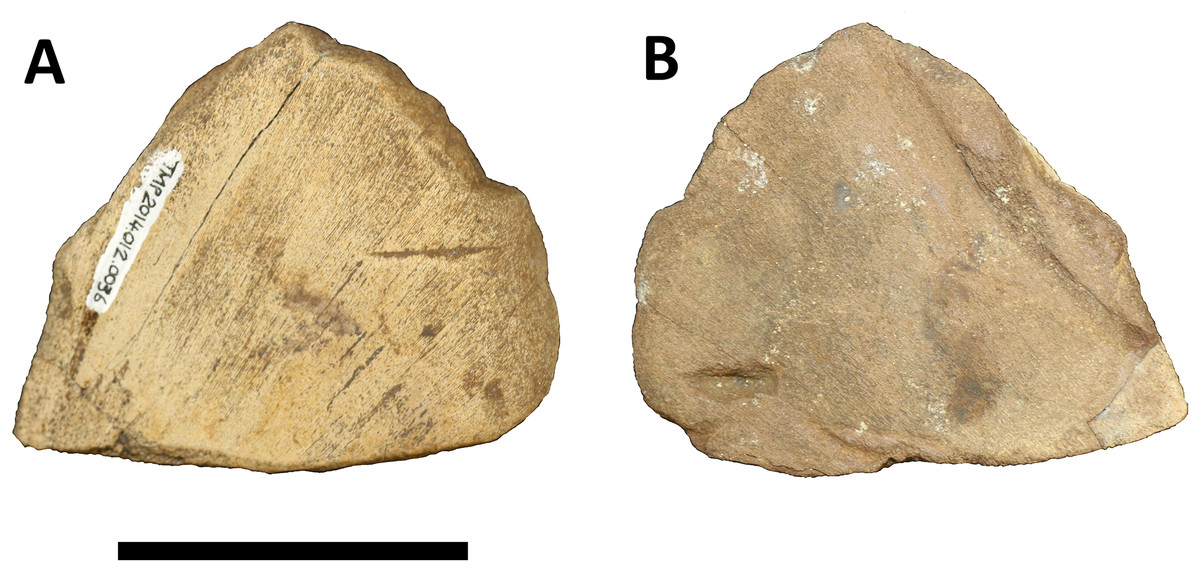 So, enter a small and beaten up piece of ceratopsian frill. I was shown this a few years ago by Darren Tanke and Caleb Brown after it was found during a dig in Dinosaur Provincial Park in Alberta, Canada. It was unusual in that it was from a fairly young animal and the bite marks were quite small. It is also unusual that these are bites on a frill, it's not the kind of place an animal would usually feed on becuase there's bascially no meat there, just a bit of skin and bone which rather points towards these being scavenging traces from an animal that got to a very decayed carcass rather late.
The bites are hard to interpret with lots of cracks and breaks not helping things. There are two clear bites and they fit the classic morphology of theropod traces and we can rule out things like crocodiles, champsosaurs or mammals having been responsible, despite the small size. One looks more like a tyrannosaur bite (though it would have to be from a very small one) and a second looking more like it was from kind of deinonychosaur. It is certainly possible that more than one animal bit this same bit of bone, but equally bite can be variable and identifying them accurately can be very difficult or even impossible to accurately work out who the biting animal was. So despite the apparent possible different candidates it's hard to say quite what happened here. That's obviously disappointing, but it's important to try and evaluate each bite on it's merits if possible and this does a least provide evidence that even smaller centrosaurs were being bitten by the local theropods and these were not beyond trying to make a snack of a damaged squamosal.
The whole paper is freely available and open access and is online here if you want to see more:
Hone, D.W.E., Tanke, D.H., & Brown, C.M. 2018. Bite marks on the frill of a juvenile Centrosaurus from the Late Cretaceous Dinosaur Provincial Park Formation, Alberta, Canada. Peer J.